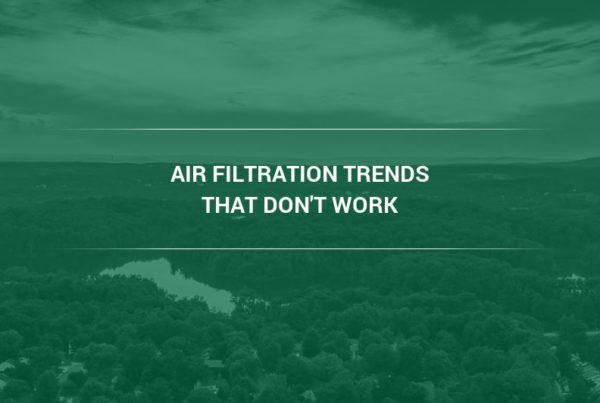 Air Filtration Experts from Camfil Address Air Filtration Trends
COVID-19 Prevention: Air Filtration Trends That Don't Work
In a new online resource, air quality experts from Camfil break down some of the most popular 2021 air filtration trends that may not work as advertised.
2020 and 2021 introduced us to a range of questionable products and practices that gained traction due to unsupported claims that they helped prevent COVID-19 infection. Because the virus that causes COVID-19 is spread via respiratory transmission, the internet has been rife with air filtration trends that many people believe will protect them from infection.
Many of these trends, however, do little to prevent the spread of COVID-19, and some may be causing more harm than good. In a new online resource, air quality experts from Camfil, a global leader in air filtration research and engineering whose premium air quality solutions have assisted essential workers on the frontlines of the pandemic, break down some of the most popular 2021 air filtration trends that may not work as advertised.
"Some of these technologies provide a false sense of security by allowing consumers to think that they are safe when the risk of infection is essentially unchanged," says Mark Davidson, Camfil's Manager of Marketing and Technical Materials, "Other technologies compound air quality issues by releasing ozone, volatile organic compounds (VOCs), and unknown chemicals into the air."
The trends highlighted in Camfil's new resource include:
Using MERV-13 panel filters from retail outlets instead of MERV-A-rated filters.

DIY box fan "air purifiers."

Using cheap "HEPA" air purifiers that don't use actual HEPA filtration.

Antiviral and antibacerial filters.

Photocatalytic oxidation.

Air filters with dry hydrogen peroxide.

Low wattage UV light with limited exposure time.
Read the full resource on air filtration trends that don't work here.
About Camfil Clean Air Solutions
For more than half a century, Camfil has been helping people breathe cleaner air. As a leading manufacturer of premium clean air solutions, we provide commercial and industrial systems for air filtration and air pollution control that improve worker and equipment productivity, minimize energy use, and benefit human health and the environment. We firmly believe that the best solutions for our customers are the best solutions for our planet, too. That's why every step of the way – from design to delivery and across the product life cycle – we consider the impact of what we do on people and on the world around us. Through a fresh approach to problem-solving, innovative design, precise process control, and a strong customer focus we aim to conserve more, use less and find better ways – so we can all breathe easier.
The Camfil Group is headquartered in Stockholm, Sweden, and has 31​ manufacturing sites, six R&D centers, local sales offices in 30 countries, and about 5,200 employees and growing. We proudly serve and support customers in a wide variety of industries and in communities across the world. To discover how Camfil USA can help you to protect people, processes and the environment, visit us at www.camfil.us/
##
Media Contact:
Lynne Laake
Camfil USA Air Filters
T: 888.599.6620
F: Friend Camfil USA on Facebook
T: Follow Camfil USA on Twitter
Y: Watch Camfil Videos on YouTube
L: Follow our LinkedIn Page
Source:
https://cleanair.camfil.us/2022/03/18/air-filtration-trends-that-dont-work/
Via KISSPR.com Press Release Distribution Service - Media Contact: [email protected]
This content is published on behalf of the above source. Please contact them directly for any concern related to the above.