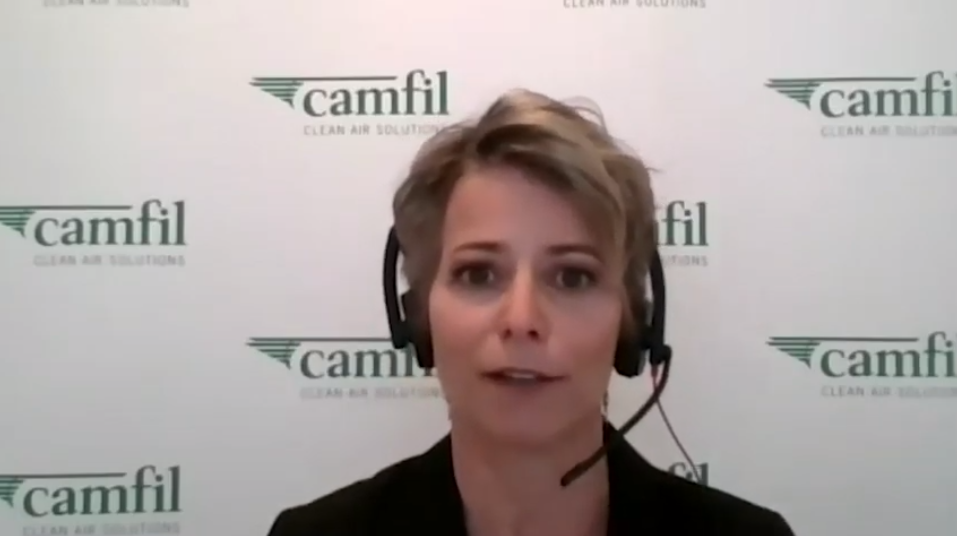 San Francisco Bay Area Based Molecular Filtration Expert from Camfil Shares Advice for the Upcoming Wildfire Season
In a new video, air filtration expert Jennifer Webb from San Francisco Bay Area with Camfil explains the hazards associated with wildfire smoke.
Air filtration experts from Camfil explain the hazards associated with wildfire smoke and solutions that can be implemented to mitigate those risks.
Riverdale, NJ - 2020's wildfire season set records. Over 8.8 million acres of land were affected, which was two million more acres than the ten-year average, and almost twice as many as in 2019. However, the effects of wildfire season extend far beyond the land affected by the actual fire. Last year, smoke from the California wildfires was carried across the country, partially shrouding the sun in New York, Boston, and even as far as Maine.
In a new video, air filtration experts from Camfil explain the hazards associated with wildfire smoke and solutions that can be implemented to mitigate those risks.
"I'm often asked to recommend a solution to address wildfire smoke odor; however, there are also much more dangerous contaminants that need to be addressed," says Jennifer Webb, who is Camfil's Segment Manager for Molecular Filtration in the western US and Mexico.
What Will the 2021 Wildfire Season Be Like?
Most of California's rain happens between November and March, but this season has been the third driest on record, and California's Secretary of Agriculture has designated 50 counties as "primary natural disaster areas" because of the ongoing droughts.
"On the heels of last year's drought and worsened by an increasing number of extreme heat waves, we are likely going to see large and destructive wildfires here and throughout all of the western states and provinces," comments Webb.
What Are the Effects of Wildfire Smoke?
In Camfil's video, Jennifer Webb shares her experience with last year's wildfire smoke as a resident of Northern California. "It's an other-worldly experience," she shares, "One day during last September's wildfire, I was working at my desk looking out the window. The day started a little hazy, but by 2 pm my "dusk to dawn" landscape lights turned on and it looked as if someone had put a dark orange film over my window. Worse, though, were the intense smoke odors, burning eyes and stifling throat irritation as soon as I set foot outside."
There are two categories of dangerous contaminants that make up wildfire smoke.
Firstly, fine particulate matter, or PM2.5 (particles 2.5 microns or less in diameter), makes up approximately 90% of wildfire smoke. In addition to irritating the eyes and respiratory tract, PM2.5 can reduce lung function and exacerbate respiratory conditions such as asthma and emphysema.
The other major concern is gaseous pollutants. In particular, ground-level ozone can cause reduced lung function, exacerbation of asthma and emphysema, airway inflammation, chest pain, coughing, wheezing and shortness of breath.
Additionally, the CDC cites evidence from multiple scientific publications showing that the symptoms and outcomes of COVID-19 infection can be worsened by exposure to wildfire smoke.
How to Protect Yourself Against Wildfire Smoke
The best defense against the harmful effects of wildfire smoke is air filtration.
Camfil recommends capturing fine particles with a fibrous filter rated MERV 14Aor higher if possible. One possible solution that achieves this MERV-A level is Camfil's Durafil ES2.
An activated carbon filter is the best way to absorb gaseous contaminants, such as smoke odor and ozone, which are approximately 1000 times smaller than the smallest fine particles.
"When space is limited in an air handling unit, a combination particulate and molecular filter, such as Camfil's CityCarb I, is the best solution," Webb advises, "To treat individual spaces, such as offices, classrooms and residences, I recommend a recirculating air purifier with both a HEPA and high capacity molecular filter such as Camfil's City M Air Purifier."
About Camfil Clean Air Solutions
For more than half a century, Camfil has been helping people breathe cleaner air. As a leading manufacturer of premium clean air solutions, we provide commercial and industrial systems for air filtration and air pollution control that improve worker and equipment productivity, minimize energy use, and benefit human health and the environment. We firmly believe that the best solutions for our customers are the best solutions for our planet, too. That's why every step of the way – from design to delivery and across the product life cycle – we consider the impact of what we do on people and on the world around us. Through a fresh approach to problem-solving, innovative design, precise process control, and a strong customer focus we aim to conserve more, use less and find better ways – so we can all breathe easier.
The Camfil Group is headquartered in Stockholm, Sweden, and has 33​ manufacturing sites, six R&D centers, local sales offices in 30 countries, and about 4,80​0 employees and growing. We proudly serve and support customers in a wide variety of industries and in communities across the world. To discover how Camfil USA can help you to protect people, processes and the environment, visit us at www.camfil.us/
##
Media Contact:
Lynne Laake
Camfil USA Air Filters
T: 888.599.6620
F: Friend Camfil USA on Facebook
T: Follow Camfil USA on Twitter
Y: Watch Camfil Videos on YouTube
L: Follow our LinkedIn Page
This content is published on behalf of the above source. Please contact them directly for any concern related to the above. 
This press release may contain forward-looking statements. Forward-looking statements describe future expectations, plans, results, or strategies (including product offerings, regulatory plans and business plans) and may change without notice. You are cautioned that such statements are subject to a multitude of risks and uncertainties that could cause future circumstances, events, or results to differ materially from those projected in the forward-looking statements, including the risks that actual results may differ materially from those projected in the forward-looking statements.