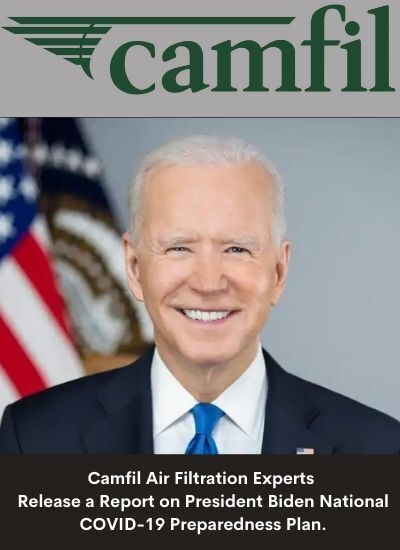 Camfil Air Filtration Experts Report on Biden Administration National COVID-19 Preparedness Plan
Biden Administration Launches National COVID-19 Preparedness Plan, Providing EPA-Backed Air Filtration Guidance for COVID Prevention in Schools and Public Buildings
Biden Administration Launches National COVID-19 Preparedness Plan, Providing EPA-Backed Air Filtration Guidance for COVID Prevention in Schools and Public Buildings

The White House has recently announced the launch of the official National COVID-19 Preparedness Plan, which is made available as a fact sheet on the executive branch's official website, whitehouse.gov.
In this article, air filtration experts from Camfil break down the Clean Air Buildings Checklist, an EPA resource designed to help managers of public buildings (such as schools and offices) ensure that their air filtration systems are adequate to prevent the spread of COVID-19 and other pathogens.
What Is the National COVID-19 Preparedness Plan About?
The National COVID-19 Preparedness Plan is a comprehensive fact sheet explaining the Biden-Harris Administration's plans across various domains to prevent further health or economic crisis as a result of the ongoing pandemic.
The Preparedness Plan is broken down into the following areas:
Protecting against and treating COVID-19
Preparing for new variants
Preventing economic and educational shutdown
Continuing to vaccinate the world
Newsroom: hvacairfiilters.submitmypressrelease.com
Read Full Story:
https://cleanair.camfil.us/2022/04/13/biden-administration-launches-national-covid-19-preparedness-plan-providing-epa-backed-air-filtration-guidance-for-covid-prevention-in-schools-and-public-buildings/
Your content is great. However, if any of the content contained herein violates any rights of yours, including those of copyright, please contact us immediately by e-mail at media[@]kissrpr.com.