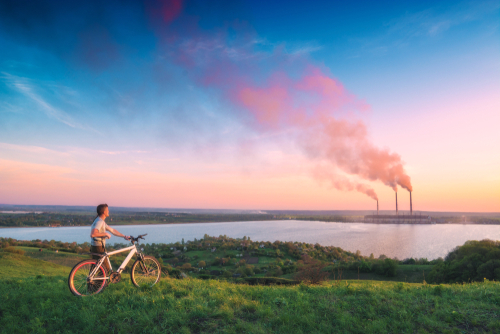 Cross-State Pollution Must Be Stopped Says Air Filtration Experts
Leading Air Filter Manufacturer Camfil USA discusses how cross-state air pollution is one of the many environmental factors that commercial air filters can help defend against.
On July 6, 2011, the United States Environmental Protection Agency (EPA) implemented the Cross-State Air Pollution Rule (CSAPR) in an effort to address the problem of power plant emissions from upwind states that cross state lines and reduce air quality in downwind states.

The rule highlights the often-unexpected consequences of air pollution. Pollutants from major metropolitan cities, for example, can travel for hundreds of miles, carrying sulfur dioxide (SO2) and nitrogen oxides (NOx), which combine with the atmosphere to create soot, acid rain, and ground-level ozone.

How Does Cross-State Air Pollution Affect Indoor Air Quality?
"The CSAPR requires states, particularly those in the eastern half of the United States, to take action and improve air quality by cutting power plant emissions that cross state lines, increasing smog and soot levels in downwind states," says Camfil USA's Charlie Seyffer, Manager of Marketing Technical Materials for commercial air filters and 37-year ASHRAE member and active committee participant. "The CSAPR forces states identified to be major sources of pollution to be held accountable for their own mess, rather than place the burden of cleaning up on downwind states."

These protections, however, are at risk of being rolled back by no less than the EPA itself. Under a new administration, the EPA published a memo in January this year providing a new guidance that allows a "major source" of air pollution to re-designate themselves as an "area source" if they can bring down their air emissions to area source standards.

"This rating system creates a loophole to stop using environment-friendly equipment and continue reducing their emissions after they get to the area source level," points out Seyffer.

But what does all this mean for us and the air quality in buildings and homes? 

Continue reading "Commercial Air Filters Are Solving the Cross State Pollution Crisis" or explore other clean air topics on their blog.

About

With 50 years of experience in air filtration products and solutions, Camfil delivers value to customers all over the world while contributing to something essential to everyone – clean air for health, well-being and performance.

At Camfil USA, we believe in making cities safe against air pollution. To learn more about our residential and commercial air filtration systems, please visit the Camfil USA catalog.


Lynne Laake

Camfil USA Air Filters

T: 888.599.6620

E:Lynne.Laake@camfil.com

F: Friend  Camfil USA on Facebook

T: Follow Camfil USA on Twitter

Y: Watch Camfil Videos on YouTube