Camfil Air FILTERS
MEDIA ROOM BY STORY.KISSPR.COM
Stories:
News - Press Releases - Blogs
"With newly spiking numbers of COVID-19 cases across the country, the need for negatively pressurized isolation areas is on the rise.  The value of portable air purifiers is almost impossible to overstate in the circumstances we find ourselves in today. In response to growing demand, Camfil announces the new CamCleaner CC500." Keith Woolard, Product Manager - Containment and CamCleaners Rive...
June 21
Riverdale, NJ — In response to the nationwide re-opening of businesses, factories, and commercial facilities in the wake of the COVID-19 pandemic, an air filtration leader and clean-air advocate Camfil USA, has released a new informational guide, detailing the considerations businesses should make when it comes to re-starting their HVAC systems. The guide, Air Filtration, How to Refresh &...
June 12
You may have heard in the news about a number of food plants shutting down operations due to fears of spreading the COVID-19 virus between employees in close quarters. In the U.S. today, there are approximately  32,000 food processing facilities employing  1.6 million workers.  As well as leaving many people without jobs, shutting down large food production facilities has far-reaching implica...
June 08
Riverdale, NJ — Unlike many risk factors to our health, circumstances often force us to enter areas where we have little choice about the air we breathe. The worldwide spread of COVID-19, a disease caused by the virus Sars-CoV-2 and communicated through respiratory droplets, has brought this fact to attention.  The coronavirus is by no means the only respiratory threat to human health. Recen...
May 25
Riverdale, NJ — Despite the ever-improving effectiveness of air filters, the air filtration industry faces an uphill battle due to a lack of information about air pollution.  While high-efficiency filters can keep airborne pollutants out of our homes, schools, offices, commercial buildings, hospitals, and industrial facilities, they only treat the symptoms of an even bigger problem. Air filt...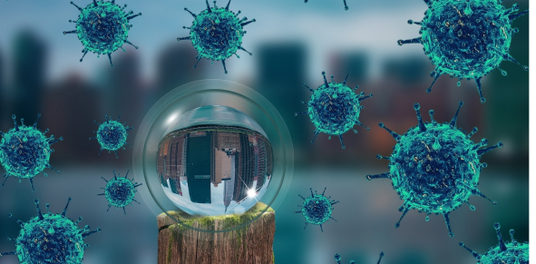 May 18
Riverdale, NJ — Air pollution kills more Africans than childhood malnutrition or contaminated water. Fast-developing African nations such as Nigeria, Ethiopia, Egypt, and South Africa are especially affected by this problem.  A Silent Killer Data from the World Health Organization shows that of the annual 2.2 million environment-related deaths on the African continent, 600,000 are linked to...
May 11
In August last year, a group of doctors endorsed an article for The Conversation, warning against the dangers of climate change on public health and safety. The article theorizes that as climate change continues to disrupt climate patterns, it is causing more frequent droughts, storms, and wildfires, all of which theoretically ruin the world's ecosystems. Climate change is also threatening ho...
April 28
Riverdale, NJ — "To provide a healthy and productive indoor air environment, the focus should be put on filtering particles that are 1 μm (micrometer) or smaller in diameter – particles known as PM1 (Particulate Matter 1). Watch this video to learn more about ePM1."  Camfil Clean Air Solutions  What is PM1?  Particulate matter can ravage human health, according to the EPA, with its effe...
April 21
During the COVID-19 pandemic, many people have questions about the nature of the virus, how it spreads, and what can be done to prevent it from spreading so rapidly. While handwashing, social distancing, and good hygiene are all essential, there are other angles to look at, too. Air filtration experts from Camfil Clean Air have added a virus filtration FAQ section to their website, with each...
April 14
Riverdale, NJ — For the most part, everyone is stuck indoors as we all practice social distancing to keep ourselves safe and combat the spread of COVID-19.  You might be tempted to think that staying indoors means you're safe from air pollution, but research shows that this is far from the case. Air pollution can occur indoors, too, and has been linked to occurrences of headaches, dizziness,...